I retired to Costa Rica in 2009 with my husband, Jack Kaiser, his two cats, Hobbes and Noir, and my dog Buddha. A year later, I wrote my first blog. Rereading it today, I'm a little embarrassed, but Scribblegal eventually improved. Mostly I did what I threatened to do: wrote about my life in Costa Rica, and the ideas that set my hair on fire.
I scribbled happily until June of 2012, when I was diagnosed with breast cancer. After surgery and radiation, I tried to begin again, but couldn't find the motivation. My joie de vivre went missing in action.
In 2016, the losses began. Hobbes and Noir sickened and died, followed by Buddha, my canine companion of thirteen years. I hadn't seen anything yet. In April, we knew something was wrong with Jack. It turned out to be pancreatic cancer.
Jack opted for a surgery called the Whipple. It was dangerous and difficult, but if successful, would have given us the hope of up to five more years. He spent five weeks in San Juan de Dios hospital, awaiting surgery and having tests done. During that time, he kept himself busy reading short stories and poetry, and remained calm and optimistic. He made hospital buddies despite his inability to speak Spanish. We felt he was being well taken care of, though the meals were sugar-laden.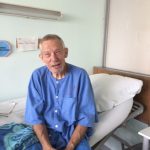 A final biopsy was scheduled, but Jack came out of that operating theater in July with an infection that took his life within days, and left me alone.
Our lovely retirement adventure had ended, and I decided to return to Philadelphia, where I was born, where my brothers still lived. I'd always known I wouldn't stay without Jack. I said goodby to Costa Rica and our friends, and now I say adieu to Scribblegal, but I'm not done with blogging. I feel like the city mouse, returning from a sojourn in the country, will once again find much to write about. Look for my life's adventures to continue at Quantum Whimsy.